Öffentlicher Verkehr in Singapur
Flughafen Changi Airport Zeitvertreib: Passagier-Pool im 3. Stock des Abflug-Bereichs (Swimmingpool mit Sonnenterrasse. Ein kühles Bad und ein Nickerchen verkürzt die Wartezeit erheblich.
Fitnessraum im 3. Stock des Abflug-Bereichs.
Transit Hotels: shower at S$5.15 inclusive of towel and toiletries gym or sauna (both with shower to follow) for S$10.30 each
hairdressers (open 11am-9pm daily) nursery facilities (playpen, toys etc, free-of-charge)
What's more, at T1's Transit Hotel, there is: karaoke room (With Chinese, Japanese and English language songs) at S$15++ per person inclusive of first drink mini-putting green for golfers, at S$5.15 per session including equipment outdoor swimming pool, with jacuzzi. This pool offers the chance for a refreshing paddle, a quick spot of sun-tanning or a poolside drink/snack. If you don't have your own swimming costume, buy one from the display on offer. Use of the pool facilities (including bath-sized towel hire) costs S$13.40 per person per entry from 7 am to 11 pm daily.
Ambiente: Changi Airport is like no other place on earth. It features, among other things, 25 restaurants, 106 Transit Hotel rooms, over 100 shops, fitness centres, saunas, business centres, meeting rooms, nurseries and Science Discovery Corner. All in light-filled surroundings with aquariums, fountains, indoor gardens and carp-stocked streams. Not surprisingly, Changi Airport has won the World's Best Airport title in the prestigeous Business Traveller (UK) Survey every year since 1988. Dubbed a "global hub that is a destination in itself", Changi Airport is certain to change even the most experienced traveller's perception of what an airport should be.
Free City Tour: All Transit/Transfer passengers with at least four hours to spare may join a complimentary tour of Singapore. The guided tour leaves at 10am, 1pm, 2pm, 3pm, 4pm, 5pm, 6pm and 7pm. As seats are limited, please book early at either of the two Free City Tour Counters in the Transit area of the Terminal.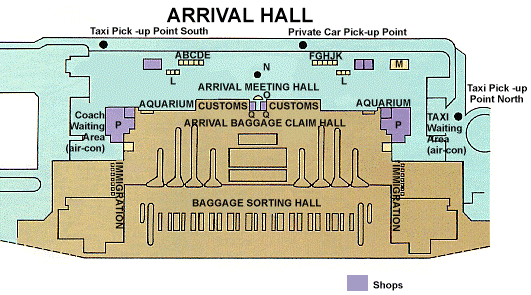 Arrival Hall Terminal 2
Level 1
Services
A/B SIA Stopover Holiday
C Hotel Reservations
D/E Car Rentals
F Mobile Phone & Pager Rental
G Hotel Reservations
H Meeting Services
J/K/L Vacant
M Left Baggage
N Meeting Point
O CAAS Information Center
P Duty-free Liquor & Cigarettes
Q Money Changers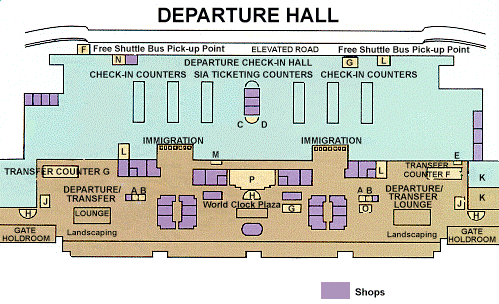 Departure Hall Terminal 2
Level 2
Services
A/B Money Changers
C/D Money Changers
E Medical Centre
F Valet Parking Service
G GST Refund Counter
H CAAS Information Counter
J Free City Tour Counter
M Left Baggage
N Unaccompanied Baggage
O Passenger Information Center
P Duty-free Liquor & Cigarettes

How To Get From The Airport Taxis Well organised taxi-ranks are just outside the Arrival Hall and often involve no waiting at all. If asked, the taxi-driver will help you load your luggage into the car's boot, and you can just leave the now-empty airport luggage trolley to a side.
Airbus The air-con 37-seater Airbus coaches operate daily from 6.20am-12.30am (average frequency of 20 minutes), drop off and pick-up at or near most major in-town hotels, and costs a flat-fare of S$5 (adults) and S$3 (under 12). Please pay exact fare on board, or get tickets in advance from the Airbus counters in the Arrival Hall.
Public Buses
These are available at the basement levels of Terminal 1 (T1) and Terminal 2 (T2). Singapore Bus Service (SBS) route numbers 16 and 16E are the fastest services into town, while SBS route 24 and 34 make the nearest connection with a Mass Rapid Transit (MRT) station (Tanah Merah). Most buses are air-conditioned, for which the fare is a little extra.
SMRT (U-Bahn)
Hotels in Singapur
Orchard 442 Orchard Road, Singapore 238879
Telefon:: (65) 734 7766
Fax: (65) 733 5482
Single Room Rate: S$280 to S$400
Double Room Rate: S$310 to S$430
Suite Room Rate: S$600 to S$1,800
Ambiente: Bar, Disco, Sauna, Wäscherei, Minibar, Restaurant, Schwimmbad
Excelsior Hotel
5 Coleman Street, Singapore 179805
Telefon:: 338 7733
Fax: 339 3847
Single Room Rate: S$220 to S$260
Double Room Rate: S$240 to S$280
Suite Room Rate: S$400 to S$1,400 Ambiente: Bar, Disco, Sauna, Wäscherei, Minibar, Restaurant, Schwimmbad
Peninsula
Raffles s.92
Ein traditionsreiches Haus, das nach umfassender Renovation kürzlich wieder eröffnet wurde. Gaffende Touristen haben keinen Zutritt mehr, damit die Gäste unter sich bleiben.
Stanford s.148
Bar mit grandiosem Rundblick im 70. Stock
The Regent
Prachtvoll renoviert.
Shangri-LA
Die Zimmer im Gartenflügel sind besonders zu empfehlen. Bei einem ausgiebigen Frühstück im tropischen Park neben dem plätschernden Wasserfall kann man sich für die anstrengenden Einkaufstouren stärken.
The Inn Of The Sixth Happiness
Verhältnismässig Preiswert ist das kleine romantische Hotel mit der familiären Atmosphäre hat nur 48 Zimmer und steht mitten in Chinatown.
Restaurant in Singapur
Goodwood Park im Hotel The Regent
Ambiente: französicher jugendstil
Alkaff Mansion Ambiente: Eine ehemalige Privatvilla im Kolonialstil mit einer prächtigen Veranda wurde zu einem stilvollen Restaurant umgebaut.
Spezialität: indonesische Reistafel
Shopping
Märkte
Nachtmarkt Pasar Malau s.83
Sago Lane
Öffnungszeit: 18.00 – 22.00
Frühmarkt s.83
Sago Lane
Öffnungszeit: 06.00 – 10.00
Fischmarkt Jurong
Ambiente: Malerisch, streng bewacht, braucht polizeiliche Genehmigung
Panggol Lage: in der Nähe des Hougaug-Wohnkomplexes
Öffnungszeit: ab 03.00 Uhr
Warenhäuser
Tudor Court
This attractive row of Tudor-front shops specializes in a variety of goods. Shops range from a well-stocked mountain bike shop to Dayspring Bridal boutique, a car rental agency to souvenir shops. Nancy Roach Gallery, which features works of European artists, and a Kookai outlet are also located here. Shoppers who get hungry can stop at The Point Pub & Restaurant for some English pub food.
Tanglin Shopping Centre
Well-known for Asian antiques and curios, this centre also houses several shops specializing in exquisite Persian, Pakistani and Afghanistan rugs, a specialist South-East Asian bookstore and a variety of tailoring shops and eating places. C.T. Hoo on level one carries Mikimoto pearls from Japan and Nevada Bob's stocks a comprehensive selection of golfing equipment. Antiques of the Orient on the second level specializes in handmade antique maps and prints. The DFS Collection store just across the road is a particular favourite with Japanese visitors.
Delfi Orchard
Waterford crystal and Wedgewood china are available at street level. There are numerous upmarket clothing and accessory stores, including ken Done "art to wear" from Australia. Royal Selangor which sell fine pewterware is located here.
Orchard Towers
Jewellery, Thai silk, antique and leather shops vie for space here with tailors, electronics stores, several restaurants and a gourmet food and wine supermarket. Larry Jewellery, with its fine gems and award-winning designs, may be of particular interest.
Palais Renaissance
This imposing complex holds a superb range of prestigious designer boutiques such as Gianni Versace, Chanel, and Christian Lacroix.
Forum the Shopping Mall
The giant Toys 'R' Us store in this relatively small centre is a magnet for kids. Other shops sell remote control cars, boats and planes, children's clothing, quality fashion, jewellery, optical goods and electronics.
Far East Shopping Centre
Another large complex with everything from a host of small jewellery stores and inexpensive clothing and tailor's shops to health equipment and computers. The Kwok Gallery on level three specializes in rare porcelains, jade sculptures and fine old ivory carvings.
Liat Towers
The major store here is the well-known French department store Galeries Lafayette. Liat Towers also contains the exclusive Hermes boutique where expensive leather goods, ties and scarves are sold.
Lane Crawford Place
Known as the Harrods of Asia, this upmarket department store is spread over two basements and two upper floors showcasing a wide array of fashion goods and home furnishings.
International Building
Just across the street from Liat Towers is the International Building. Here you can visit Melwani's for Bally shoes, Pancaldi bags and Van Laak fashions.
Shaw House
The Japanese department store, Isetan, occupies four floors of this new complex. There are also no less than five cinemas screening feature films.
Shaw Centre
Not to be confused with Shaw Towers on Beach Road, Shaw Centre is on Scotts Road. Here there is a good range of shops to interest tourists- Ming Blue for interesting curios and Singapore Woodcraft for rosewood furniture.
Pacific Plaza
Studebaker's, one of the largest restaurant/fun pubs in the world and Tower Records, USA's largest record chain take up three floors of this complex.
Far East Plaza
Also on Scotts Road, this bustling shopping centre sells everything from plastic flowers to precious gems, sequin-studded t-shirts to stereos, computers to compact discs. Local department store, Metro, occupies the basement and carries a wide range of clothing at reasonable prices as well as household goods, shoes and accessories.
Scotts Shopping Centre
Here you'll find top quality fashions, from contemporary designs at Jessica to more traditional lines at Si-An Silk House. Chomel stocks casual and office wear. Try Cost Plus for a range of electronics and electrical goods at competitive prices.
Lucky Plaza
This typically Singaporean bargain-for-the-best-bargains centre contains an enormous selection of shops. Everything from watches to waistcoats.
Wisma Atria
The Japanese department store, Isetan, fills one end of this bright blue complex and a mix of boutiques and other shops is at the other.

Ngee Ann City
This massive new centre houses the Takashimaya Shopping Centre, a supermarket, an expanded Tang's Studio, over 100 speciality store and a variety of restaurants. There's also a full-facility sports centre, an art gallery, a culture centre and a large area for staging events. The new centre also boasts of a disco, Sparks.

The Promenade
Charles Jourdan shoes and bags, jewellery and luxurious lingerie are only some of the items sold by the upmarket shops here. Abraxas Designs features furniture and accessories using non-traditional materials and innovative craftsmanship in designs that combine functional efficiency with artistic flair.
The Paragon
Men's quality fashion is particularly well represented here, with labels like Alfred Dunhill, Gucci, and Lanvin all available. You'll also find Royal Selangor pewterware, a Royal Doulton showroom, Wedgewood china and a miscellany of other high quality goods. Japanese retailer, Sogo, operates a supermarket in the basement and on the top levels Metro has a department store.
Orchard Building
Just down the road from the Mandarin Hotel, Halleys offers one-stop shopping for all types of luxury goods from perfumes and cosmetics to jewellery and apparel.
OG Building
The OG Department Store caters primarily to the local market, carrying a good range of footwear and clothing for the whole family. This includes a wide range of business and casual ladies' wear in larger sizes.
Midpoint Orchard
A larger complex with numerous outlets including a hobby shop, sporting goods, gold jewellery, bridal gowns, fur coats and jackets.
Orchard Emerald
Some of the better known goods sold in this small green centre include Swatch watches, Sony electronics and Fila sportswear.
Specialists' Shopping Centre
One of Orchard Road's oldest shopping complexes, this centre is now home to John Little, one of Singapore's most established department stores. Speciality shops sell everything from Famous Amos cookies to winter coats and golfing equipment. If you are looking for a meal with character, Fosters Restaurant Pte Ltd on level two offers traditional English fare in distinctly English surroundings while the Korean Restaurant on level five was the first-ever Korean restaurant in Singapore.
Centrepoint
Centrepoint is amongst the largest and most popular centres in Singapore, meeting virtually every need of tourists and locals alike. Here you'll find Robinson's, regarded by many as Singapore's premier department store and a legend for quality and service since it began trading in 1858. There are also stores specialising in classical music, casual clothing, optical equipment, electronics, personal care, fine furnishing, Oriental hand-knotted rugs, sporting goods, fine arts, Asian antiques and artifacts, two major bookshops and much much more. The complex also has a good selection of restaurants and fast food outlets.
Orchard Point
There is a wide range of clothing stores here, together with a miscellany of reasonably priced stores aimed particularly at tourists. Check the fourth level for art galleries.
Orchard Plaza
This complex is full of good-value tailors, hair salons and make-up specialists. Try Singapore's own brand of ladies' shoes, Riccino, on the third floor. Custom-made ladies' shoes can also be ordered from several shops. If you camera is on the blink, Goh Kin Camera Service on the second floor can probably repair it.
Meridien Shopping Centre
The focal point here is the huge store in the basement, DFS Collections, which specializes in duty-free goods. There are a number of clothing and accessory boutiques featuring names like Club 21 on the higher floors. You'll also find tailors, lighting shops, even a store specializing in T-shirts.
Plaza Singapura
Arranged more or less according to categories, this centre has musical instruments on the seventh floor; household items on the fourth; audio and video equipment and recorded music on the third; and fashion on the second. The Yaohan best retail outlet for electrical goods and appliances occupies most of the first and part of the first basement level. In addition, the first basement level contains a supermarket and a food hall, while general clothing, sports equipment and clothing, accessories and miscellanous items can be found on the second basement level.
Park Mall
Park Mall is a specialist home furnishings centre offering a wide range of quality home furniture and furnishings in a variety of styles. With over 45 shops, the merchandise mix comprises home furniture and furnishings items for every room of the house. Look out for value-added services such as a free home design consultancy service, weekend design workshops ans a kids' club.
Sehenswürdigkeiten in Singapur
Jurong Bird Park – Vogellpark MRT Boon Lay (EW27), dann SBS bus 194 oder 251 Jalan Ahmad Ibrahim s.69
Singapore 628925
Telefon: 265-0022
Fax: 261-1869
Ambiente: Southeast Asia's largest bird park, Jurong BirdPark is home to over 8,000 birds of 600 species from all over the world. Highlights include the world's largest collection of Southeast Asian Hornbills and South American Toucans, and the world's second largest penguin exhibit. 20 ha mit 420 Vogelarten
Öffnungszeit: 9am to 6pm (Mon - Fri), 8am to 6pm (Sat, Sun & public holidays)
Eintritt: S$10.30 : Adults, S$4.12 : Children under 12 yrs
PANORAIL: Hours: 9am to 5.30pm, Adults: S$2.06, Children under 12 yrs: S$1.03
SHOW TIMES: 10am : Fuji World of Hawks
11am : All Star Bird Show
11.45am : Hornbill Chit Chat
12pm : The Wonderful World of Birds
1pm : The Wonderful World of Birds
2pm : The Wonderful World of Birds
3pm : All Star Bird Show
4pm : King of the Skies
Botanic Gardens – Botanischer Garten
Ambiente: Oase der Ruhge, spez. Orchideenschau
Eintritt: gratis
Chinesischer Garten - Jurong Town (MRT) Chinese Garden (EW25)
1 Chinese Garden Road, Singapore 619795
Telefon: 264-3455
Fax: 265-8133
Öffnungszeit: 09.00 – 18.00 Uhr
Eintritt: 4.50
Ambiente: Tagoden, Brücken, klassische Landschaftsarchitektur
Jurong Crocodile Paradise MRT Boon Lay (EW27), dann SBS bus 194 oder 251 241 Jalan Ahmad Ibrahim s.69
Singapore 629143
Telefon: 261-8866
Fax: 261-7778
Ambiente: Located adjacent to the Jurong BirdPark, Jurong Crocodile Paradise includes over 2,500 crocodiles in a landscaped setting, with underwater viewing areas and a breeding enclosure.
Öffnungszeit: 9am to 6pm (daily)
Eintritt: S$6 : Adults, S$3 : Children under 12 yrs
Singapore Zoological Gardens - The open Zoo MRT to Ang Mo Kio (NS16) station then take SBS bus 138
Mandai Lake Road s.112
Singapore 729826
Telefon: 269-3411
Fax: 367-2974
Öffnungszeit: 8:30am to 6:00pm täglich
Ambiente: In its lush jungle setting, Singapore's renowned "open" zoo is a haven for many endangered species. More than 2,000 creatures are housed in landscaped enclosures with rock walls and streams as natural barriers separating the animals from visitors.
Eintritt: S$9.27 : Adults, S$4.12 : Children (3-12 years)
SHOW TIMES: 10.30am - Primates and Reptiles
11.30am - Elephants and Sealions
2.30pm - Primates and Reptiles
3.30pm - Elephants and Sealions
NIGHT SAFARI – Nachtzoo (MRT) Ang Mo Kio (NS16), then take SBS bus 138.
(MRT) Choa Chu Kang (N21), then take TIBS bus 927.
Mandai Lake Road
Singapore 729826
Telefon: 269-3411
Fax: 367-2974
Ambiente: The dark holds many surprises ... and more so at the Night Safari, where you can look a one-horned rhinoceros in the eye or hear the howls of a pack of striped hyenas. There are 1,200 animals of over 100 exotic species to watch out for. Strike out on your own along the walking trail or relax in a tram ride - whichever you choose, the Night Safari is a wild adventure not to be missed.
Öffnungszeit: täglich 19.30 bis 24.00 Uhr (Kasse bis 23 Uhr)
Eintritt: S$15.45 : Adults, S$10.30 : Children under 12 yrs ohne Tram
Anreise: Take the MRT to Ang Mo Kio (NS16) station then take SBS bus 138. 1h Bus S$ 1.40
Underwater World Singapore
80 Siloso Road
Sentosa Island
Singapore 098969
Telefon: 275-0030
Fax: 275-0036
Ambiente: Asia's largest tropical oceanarium, Underwater World, gives the visitor a fish-eye view of the mysteries of the sea. Its submerged tunnel, with a moving walkway, takes visitors past more than 6,000 marine creatures from 350 species.
Not all of Underwater World's attractions are below the surface. The Turtle Pool is home to the endangered Green and Hawksbill turtles. Visitors will relish their first touch with the marine creatures such as starfish and sea cucumbers. Be dazzled by the display of Seahorses and the Weedy Seadragon which resembles the mystical Chinese dragon. Then, move on to more exhibits such as the Cave habitat or the Living Reef.
Öffnungszeit: 9am to 9pm (daily)
Eintritt: S$12 : Adults, S$6 : Children under 12 yrs
Anreise: Take the MRT to Tiong Bahru Station (EW17), the take the Sentosa Bus Service B or C. Change to service A upon reaching Sentosa Island.
Tiger Balm Gardens (MRT) Buona Vista, dann Bus 200
(SBS) 10, 30, 51, 143 or 200 Pasir Panjang Road, Singapore 118628
Lage: 20 Min. fahrt von der Orchard Road entfernt
Telefon: (65) 774-0300
Fax: (65) 779-1203
Öffnungszeit: 9.00 bis 18.00 täglich

Sentosa Island
Eintritt: 26.-- s.95-100
Fantasy Island - Water Theme Park
Wunderfull
Asiens grösste Licht und Wasser Show
The Helix Bridge
Fussgängerbrücke welches das Marina Center mit Marina South verbindet
Adventure Golf Theme Park
Ambiente: Spread over 15,153 sq m of lush green lawns, this will consist of 36 uniquely landscaped putting greens: caves, ravines, streams, ponds and even geysers.
Beaches
Ambiente: Sentosa invites you to enjoy 3.2 km of sandy white beaches and lots of beach activities:
pedal cats, aquabikes; fun bugs; canoes; windsurfing; and of course just lazing in the sun. On a sunny day, explore Sentosa the fun way - Take a bicycle, the open-top double decker bus, the monorail, or the beach train.
Sentosa Orchid Gardens
Ambiente: is an exotic garden, with orchids from around the world; a flower clock; a carp pond; a 'Bell Of Happiness'; and a Japanese tea house.
The Butterfly Park & Insect Kingdom
Ambiente: houses one of the largest collection of butterflies and insects, including rhino beetles, scorpions, and over 2500 butterflies, of more than 50 species.
The Dragon Trail
Ambiente: Legend and adventure abound as the majestic dragon livens up a jungle trail rich in flora and fauna.
The Flower Terrace
Ambiente: is full of charm and colour, with a profusion of bougainvillea, cannas, lantana and maiden's jealousy; rest and relax under a gazebo.
The Fountain Gardens
Ambiente: are European-style gardens populated with over 25,000 plants, from 105 plant species. Take a romantic stroll amidst the sound of flowing fountain waters.
Underwater World
Ambiente: Asia's first and largest tropical fish oceanarium. Come face to face with more than 5000 tropical fish, eels, sharks, and other marine animals
Fort Siloso
Ambiente: is Singapore's only preserved fort, which allows you to relive the Fort's history from 1800s to the early 1940s. The newly upgraded fortress provides a total sensory adventure of life as a recruit, complete with 'booming' coastal guns, an Assault Course, war games, tunnels and soldiers. The Battery Sgt Major will be your surprising guide.
IMAGES OF SINGAPORE
Ambiente: Pioneers of Singapore is a surprisingly life-like tableaux that traces the lives of early immigrants and famous pioneers who helped build Singapore.
The Surrender Chambers
Ambiente: A spectacle in audio-visual and life-size waxworks capturing the humiliation of defeat and the joy of victory during the war years
Festivals of Singapore
Ambiente: where you can participate in the customs and celebrations of the Chinese, Malays, Indians and Peranakans. See the exhibits come alive.
The Maritime Museum
Ambiente: traces the development of sea-going craft from the earliest times. From simple fishing vessel, to the technology the makes Singapore one of the busiest ports in the world today.
Enchanted Grove of Tembusu
Ambiente: A night wonderland with genies, a wishing well; and magical fairies...
The Merlion Tower
Ambiente: will soar 37 metres into the sky and emit laser beams from its eyes and smoke from its nostrils.
The Musical Fountain
Ambiente: is a breathtaking sight of coloured fountains dancing to a symphony of light and music.
Pasar Malam
Ambiente: is a fascinating collection of sixteen stalls that sell everything from souvenirs to antiques and stamps.
Kultur
Einreisebestimmungen
Reisedokumente
Gültiger Pass für Aufenthalt bis zu 3 Monaten. Pass muss mindestens 6 Monate länger als Aufenthalt gültig sein
Zollfrei für Erwachsene
1L Spirituosen, 1L Bier oder 1L Wein. Zigaretten oder Zigarren müssen verzollt werden. (Der Duty-free-Shop in Singapur führt keine Zigaretten).
Mitnahme
unbeschränkt
Medizinische Vorsorge
Keine Impfungen erforderlich
Geld / Währung
Umrechnung
1 Singapur$ = 100 Cents 1 Sing$ = Sfr 0.91 1 Sfr = Sing$ 1.10 Stand: 09.06.2002
Trinkgeld
Hotel, Restaurant, Taxi: inbegriffen Gute Leistungen speziell belohnen.
Banken
Mo-Fr : 10.00 - 15.00h Sa : 09.30 - 11-30h
Hinweise für Automobilisten
Int. Führerausweis erforderlich. Linksverkehr!
Höchstgeschwindigkeit
Innerorts: 50 km/h, Autobahnen: 80 km/h
Allgemeine Hinweise
Ladenöffnungszeiten
täglich 09.30 - 18.00h die meisten Shopping Centers sind bis 21.00h geöffnet
Strom
220/240 Volt
Posttaxen
nach der Schweiz: Briefe Sing$ 0.75, Karten Sing$ 0.30
Adressen
Auskunftsstelle
Singapore Tourist Promotion Board Hochstrasse 48 8044 Zürich Tel. 01 252 54 54 FAX 01 252 53 03
Schweizer Botschaft / diplomatische Vertretung
SINGAPORE 1128 1, Swiss Club Link Tel. 468 57 88
Telefon
Fernrufnummer nach der Schweiz: 00541 Die Netzgruppen-Null ist wegzulassen
letzte Änderung: 16.04.2015 17:59